In the realm of corporate gifting, flexibility and thoughtfulness are key. That's why BizGift is excited to announce a new addition to our lineup: the 25-card package, designed specifically for those who seek the perfect balance between generosity and practicality.
A Smaller Package for Bigger Impressions
Sometimes, less is more. Understanding that not every business or individual wants to start with a large volume of gift cards, we've introduced the 25-card package - available for just $88. This smaller package is ideal for startups, independent entrepreneurs, or any organization looking to make a substantial impact without the commitment of a larger order.
Empowering Choice with Pay-On-Activation
BizGift's innovative Pay-On-Activation model takes the concept of flexibility a step further. Our patent-pending process allows you to fund the gift card values as they are activated, not a moment before. This means you're only investing in the rewards that are truly appreciated and claimed, ensuring every dollar is well spent.
Learn more about Pay-On-Activation!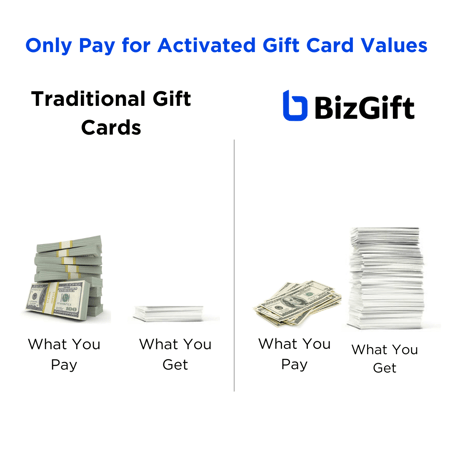 330+ Brands, Unlimited Joy
Gift-giving with BizGift is not just about convenience; it's about delighting your recipients with the power of choice. With over 330 brands, including Amazon, Target, and Starbucks, each recipient can select the brand that resonates most with them. Whether it's a favorite coffee shop or a much-needed tool from Home Depot, the joy of choosing is part of the gift.
No More Shopping Hassles
Bid farewell to the days of guessing what your clients or employees might like, or making those last-minute shopping trips. BizGift streamlines the gifting process, making it as simple as a few clicks. Plus, with our Pay-On-Activation model, you're not just saving time, but also optimizing your budget.
Seamless Gifting, Anytime, Anywhere
Whether you're thanking a remote team member, rewarding a loyal client, or sending a seasonal gesture of appreciation, our digital delivery system ensures that your gift of choice is just a BizGift away. The instant gratification of a gift, coupled with the anticipation of selecting their own reward, makes for an unmatched gifting experience.
A Small Package with Immense Value
BizGift's new 25-card package is more than just a product; it's a shift towards thoughtful, efficient, and financially smart gifting. Embrace the ease and assurance that comes with our Pay-On-Activation model. Choose to give the gift of choice today, and watch as your relationships with clients and employees grow stronger with each perfectly personalized card.
Remember, it's not just about the gift; it's about the experience you provide – and with BizGift, that experience is unmatched.