In an exciting development for corporate gifting, BizGift is proud to announce the addition of seven prominent brands to its comprehensive marketplace. This expansion brings the total to over 330 brands, offering unprecedented choice and flexibility for client gifts. The latest brands to join the BizGift family include retail and specialty giants such as Amazon, Target, Home Depot, Lowe's, Total Wine, Dick's Sporting Goods, and Starbucks. This diverse array of options ensures that every BizGift card recipient can find something that suits their tastes and needs, whether it's tools for a DIY enthusiast from Home Depot or a relaxing coffee break with Starbucks.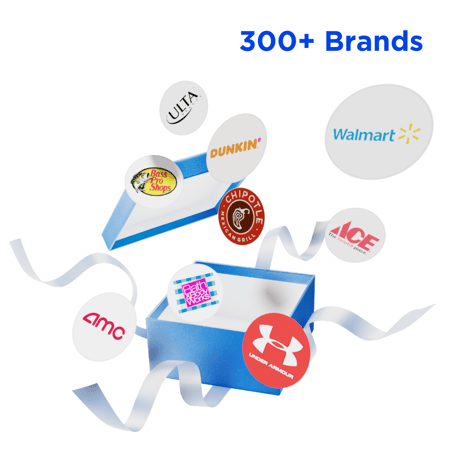 BizGift is more than a service; it's a gifting experience tailored to enhance business relationships. It allows recipients the joy of choosing their preferred brand, making each token of appreciation genuinely meaningful. This level of personalization in corporate gifting is what sets BizGift apart in a market flooded with generic gifting options.
Central to the BizGift offering is the innovative Pay-On-Activation model, which sets a new standard in the gifting industry. With this approach, clients only pay for the gift cards that recipients activate, ensuring that businesses and individuals are not burdened with the cost of unused gifts. It is an efficient, economical solution that respects a company's bottom line and eliminates the waste of resources.
In the competitive and interconnected world of business, maintaining and nurturing positive relationships is crucial. BizGift offers a strategic advantage, enabling businesses to convey appreciation and recognition, fostering a sense of value and loyalty among partners, clients, and employees.
The addition of new brands as a testament to BizGift's commitment to growth and adaptation to client needs. It ensures a versatile and rich selection, suitable for any corporate gifting occasion. Beyond variety, BizGift's Pay-On-Activation model also aligns with contemporary values of sustainability.
The positive feedback from businesses that have utilized BizGift speaks volumes about its impact. The platform's intuitive design, exceptional customer support, and flexible gifting options deliver a seamless experience that benefits both the giver and the receiver.
BizGift invites businesses of all sizes to explore the expanded marketplace and the unique benefits of the Pay-On-Activation model. It's an invitation to elevate the gifting experience, enhancing corporate relationships with thoughtful, personalized gifts that are guaranteed to be used and appreciated.
For further information about BizGift or to explore its offerings, interested parties are encouraged to visit bizgift.com.
BizGift, since its inception, has been at the vanguard of the corporate gifting industry. It is renowned for its customer-centric approach and innovative solutions. The patent-pending Pay-On-Activation system is a reflection of BizGift's forward-thinking philosophy, changing the corporate gifting process for the better.
For more details on how BizGift is revolutionizing the world of corporate gifting, please reach out to info@bizgift.com or visit bizgift.com.